After not reading any baseball books for longer than I can remember (probably just a few months, that tells you a lot about my memory), I happily dove in to the new listings on Amazon.
Herewith a sampling of what's on the horizon. It's a nice mix of the "comfort food" of baseball lit — biographies, anniversary commemorations, and sentimental topics — and innovative topics, at least relatively speaking. Throw in a smattering of re-issues and you've go something for everyone.
Except kids. I hate kids.
JOKE!! But as regular readers know, I do not include books for kids and young adults on this here blog.
So, with introductions having been made, here we go. The books are presented roughly in the order of their release, bearing in mind that some projects, especially those slated for later in the year, might still be pulled, depending on circumstances.
Obviously, since most of the books have yet to reach market, these are merely my first impressions based on subject matter and author. It certainly does not include everything that's on the schedule. And with all due respect to those hard workers, I have decided not to include in this entry annual publications such as The Baseball Forecaster, The Hardball Times, and Baseball Prospectus, which basically follow the same format, albeit it with updated stats and insightful and entertaining essays. Nor am I including instruction-type publications geared towards coaching on one level or another.
* denotes items I find especially intriguing.
Biographies
Robert F. Burk, whose previous baseball titles have focused on labor issues, publishes a long anticipated biography with Marvin Miller, Baseball Revolutionary
. It would have been nice to be able to include a chapter about Miller's induction into the Hall of Fame, but I hope that will appear as an extra chapter in the paperback edition down the line.
John Malangone was the subject of a heartbreaking Sports Illustrated profile by Gary Smith in 1997. Michael Harrison gives him the full bio treatment in Pinstripes and Penance- The Life Story Of John Malangone
. As moving as the SI piece was, I wonder what more can be said in a longer format.
If Larry Doby, the second African-American to play in the Majors, got short shrift despite taking the same abuse as Jackie Robinson, what about those who followed? Martha Jo Black writes about her father's experiences in Joe Black: More than a Dodger
.
* Mort Zachter has been a life-long fan of a Brooklyn Dodger favorite and has worked on his book Gil Hodges: A Hall of Fame Life
for many years. Unfortunately, while Hodges may have indeed had a Hall of Fame life, he's still waiting until that becomes "official."
* A couple of "definitive" titles, one explicit, the other implicit. First we have a 560-page profile of Billy Martin: Baseball's Flawed Genius
, by The New York Times' Bill Pennington. The other is Tim Hornbaker's War on the Basepaths: The Definitive Biography of Ty Cobb
. In fact, there are two Cobb books this spring, the second being Ty Cobb: A Terrible Beauty
by Charles Leerhsen. Not sure why two; there's no outward anniversary here (unless you consider it significant that Cobb debuted 110 years ago).
A more appropriate title comes from Steve Steinberg's double-bio, The Colonel and Hug: The Partnership that Transformed the New York Yankees
. Honesty without hyperbole.
Robert Fitts, who specializes in Asian baseball, will soon release Mashi: The Unfulfilled Baseball Dreams of Masanori Murakami, the First Japanese Major Leaguer
, as if to prove there was life before Ichiro.
There are some people for whom one book should suffice. All due respect, but I think Tommy Lasorda is one of them. He published his memoirs I Live for This: Baseball's Last True Believer
with Bill Plaschke of the Los Angeles Times in 2007. Maybe that's why Colin Gunderson wrote Tommy Lasorda: My Way
, as something a bit more objective? Or will it be another paean to the "Artful Dodger," (which was the name of the 1995 book written by Lasorda).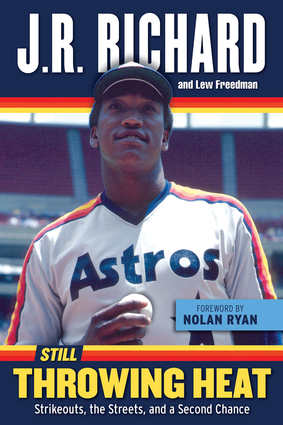 Two "fresher" titles this year takes a look at players who were stars of their generation but have since gone under the radar, perhaps because they were the victims of smaller markets. J.R. Richard, the fireballing pitcher for the Houston Astros in the 1970s, writes about Still Throwing Heat: Strikeouts, the Streets, and a Second Chance
while Thom Herrington wants us to know more about Tony Oliva: The Life and Times of a Minnesota Twins Legend
. (I'm embarrassed to say that I thought Richard had passed away several years ago. My bad.)
So let's see, we have had several books abut Derek Jeter and one about Mariano Rivera. And now there's The Journey Home: My Life in Pinstripes
by Jorge Posada. That means that Andy Pettitte — the last member of the Core Four — better get busy.
Coming down the pike: New baseball titles, Part I -- Biographies