Curt Smith, author of several fine volumes about baseball broadcasters and broadcasting, offers this nostalgic essay on "Spring training: Baseball's Brigadoon" in the Irondequoit Post.
Publishers Weekly published their annual list of new baseball topics. Unfortunately, it's only available to subscribers. I'll see if I can find an end-around at some point. "Spring inevitably means a new roster of baseball books, but there are also a few curveballs this season," they tease. Wonder what the heck that means. Usually when you say something is a curveball it's not meant in a pleasant connotation.
From CapitalkCity.com, this piece on Steve Kettmann's new title about NY Mets' general manager Sandy Alderson. I received a copy but haven't gotten to it yet, but on first impression, the title — Baseball Maverick — seems erroneous. When I think of a "maverick," it's usually someone like Bill Veeck (or even his son, Mike), someone who's an innovator. All due respect, the Mets have followed a pretty conservative path during Alderson's tenure. A portion of that has to do with their part in the Bernie Madoff fiasco, but when life gives you lemons, what do you do? You don't hold onto them, you use them. Great, now I'm thirsty.
On second thought, I'm reconsidering my first impression. Alderson has done good work prior to joining the Mets and they have put together an interesting farm system that has produced some talent that has the potential to produce over the next few years. It's that hesitation I have that may temper my enthusiasm until the actually win more than 50 percent of their games.
Here's a glowing review of Carl Johnson's new title, From Beers to Beards in the Sanford News. Upshot: "It's a book that is nearly impossible to put down and is one of the best baseball books I've ever read." And a positive, though more sedate one, from Gapersblock.com on Joe Black: More than a Dodger.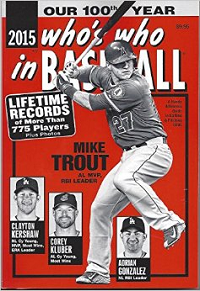 While this doesn't really address Doug Lyon's 100 Years of Who's Who in Baseball, ESPN's Mark Simon does celebrate the publication's 100th anniversary. (I still don't understand why baseball-reference — or any other on-line provider — doesn't or can't include historical injury information. I would find it fascinating to see who missed how much time for what reason. Just sayin'.)
I've kept loose journals  about my work on 501 as well as a more thorough one for my forthcoming history of the Maccabiah Games, but nothing like this simple step-by-step piece by John Sickels for his 2015 Baseball Prospect Book. This was posted March 8, so I'm not sure where things stand as of this posting.
As you know, I'm not much on baseball fiction, but i am a big fan of the work of Troy Soos, author of the Mickey Rawlings series, the latest of which is The Tomb That Ruth Built. If you like historical fiction and old-tyme baseball, this is a no-brainer. Here's a nice profile on the author from the Osceola News-Gazette.
Author events: Rob Goldman and John Klima will talk about their baseball books from 8 to 9 p.m. on Monday, March 30, at the Grant Brimhall Library, 1401 E. Janss Road, Thousand Oaks. Goldman's latest is a biography ab out Nolan Ryan; Klima's The Game Must Go On: Hank Greenberg, Pete Gray and the Great Days of Baseball on the Homefront in WWII releases in May.
Bits and pieces, March 16